Home School Adventure Co.
has been a spiritually challenging, yet fulfilling personal adventure for me. I was given the PDF version of
Philippians in 28 Weeks
and I am beginning week 7 as I post this entry today. What you need to know is that
Philippians in 28 Weeks
is not merely a study of the book of Philippians that is completed within 28 weeks. No my friends, the point of this study is to memorize the entire book of Philippians in 28 weeks!
Philippians in 28 Weeks
can be used with ages 9 through high school as a read along or with teacher guidance depending on where you feel your student is. High Schoolers can use this by themselves. Adults will also benefit greatly from it as I surely have done. Because my 12 year old daughter has special needs and had a month long battle with bronchitis as I started I chose to not have her participate with me yet, except for reading through the Scripture together once during each week. She also reads along as I quote the Scripture to test me. She certainly catches every mistake I make! I am planning on having her join in the memorization soon, but due to her special needs I will not have her memorize the entire book. There are segments in chapter 2 and chapter 4 I want her to memorize and I know she can handle passages with up to 15 verses.
The goal of the
Home School Adventure Co.
is to equip parents and educate children "to be loving, compassionate, strong, and wise" as we learn to love the Lord with all our heart, soul, mind, and strength. The
Philippians in 28 Weeks
study really takes that approach to a whole new level. They remind us how the bible is banned in many countries and yet we have many bibles sitting on our shelves at home. Then they ask the question that really cuts to the heart, what good are they if we don't use them and share them with others?
The steps they give you are rather simple in reality. You read, record, repeat, review, and retain. The book comes with several helps to walk you through each of these steps. The best part was the memorization cards. These were beautifully made. Here is an image containing both the front and back of the card. Of course, if you printed it each image would be on a different side of the card.
Not only are these handy tools but the way they break down the verses really helps you visualize them and get some rhythm to it. The fact that the copy work sheets are written in the exact same way was also very helpful. Often when I am saying a verse I am picturing how it is structured on the card. The copy work is helpful, even if it were not in a special format. I remember learning once that if you write something down it is like repeating it 11 times. That has stuck with me, so these sheets were extremely handy for memorizing and if you use them with a student they double as a handy penmanship worksheet too.
Along with the cards and copy work sheets you also get a chart for accountability where you can mark down which of the four things you did each day. This didn't quite follow the directions exactly. While the directions say read, record, repeat, and review/retain, this has boxes for read, reflect, repeat, and recite. It kind of mixed me up a little, but I got past it. I did like having the reminder in front of me. Here is a copy of my sheet from about a week ago.
Each week focused on one set of Scripture to memorize covering 4 to 6 verses per week. As well as the copy work there were also a few specific questions for you to consider about the passage and at the end of the week you spent some time reflecting on what you have learned over all.
The only card stock paper I had was colored so I printed my cards up on yellow. I didn't bother printing the picture on the back. While it was lovely I preferred to save some ink. I would then sit at my desk or table and work at it. Here is my notebook where I keep everything inside, except the week I am working on. That I keep clipped on top with my cards so I can easily access it when I need it.
The hardest part for me was not really the memorization so much as it was getting the reading in. For the study they suggest that you to read the entire book of Philippians each and every day. I managed to do that several days a week, but unfortunately not every day. I also found it difficult to get other study in because when I wasn't reading it, I was memorizing it, repeating it, or reflecting on it. One thing I have started doing is reading the passage before I even get out of bed. That way if I have time to read later I can catch up on my other daily reading or studies I might have going.
After a few weeks you do start to see why the reading is so important. It really does help you to memorize when you are already so very comfortable with the passage. In fact, I would recommend people start doing the reading before they even dive into the study! That really does seem to help!
Now this study is not for those who have trouble finding time to read or study the Word of God on a regular basis. Those habits are really essential for being able to complete the study. You also probably need to allow for life emergencies and know that there may be a need to extend it. In fact the author had originally wanted to complete it herself in less time. However, while you need to remain flexible you can't let every little trial get in the way. You must be willing to commit, even when its tough. This does take a lot of time and commitment, but I believe it is totally worth it.
So far I am right on target and have completed the first chapter. I am praying that I will remain diligent and finish this through to the end. One of the reasons I was eager to try this study was because of how significant the book of Philippians is to me personally. This passage of Scripture has gotten me through many rough times and helped to train my way of thinking by teaching me how to renew my mind in Christ. The peace of God promised is truly available to all if you follow the instructions! I have overcome so much and gotten through pain, adversity, anxiety, and overcome temptations because I did what Paul said to do. So, like Paul, I want to remain committed and "press on toward the goal for the prize of the upward call of God in Christ Jesus." I am praying I will press on and complete the goal of memorizing this book too!
On the
Philippians in 28 Weeks
page of the website you can watch a video that shows a young man quoting the entire book from memory showing you that this can be done, even by children. I want to assure that it is possible if you have the commitment to try it and while I am only up to one chapter of the book I figured I would share my results so far. I hope to continue to share more in the future to hold myself accountable for finishing this study. Do realize that the last several verses were just learned this week so I will be struggling through those more than ones I memorized earlier. These will improve as I continue. In fact this week is designated for review only. At the end of each of the four chapters you spend one week merely for review. That certainly helps before you move on. In this video I believe I made 7 mistakes. Some were small such as saying "of" instead of "in" but I did leave out the phrase "striving side by side" before I said "for the faith of the gospel." According to the scoring system I received a 77% but I still have another week to work on them and I was a bit nervous being on camera! Consider this my
practice
exam.
At first I thought that the study element of this was lacking. There are only a few questions during each week, but the impact of diligent memorization more than makes up for that. I have never been able to answer a question so fully before. Having the Scripture ingrained in your heart makes pondering much more meaningful. I also noticed that I am using these Scriptures in every day life, even ones I have not yet memorized. In talking with my husband, in Sunday School class, or when I was counseling a friend passages from Philippians came to mind as relevant to the discussion.
The
Philippians in 28 Weeks
currently comes in both the ESV or KJV. I reviewed the ESV even though that is not the version I use for my personal study. I have actually enjoyed using something different for memorization. In fact, my husband and I are now doing all of our memorizing in the ESV to keep it consistent. We will still continue to use our other version for study. While we do have an ESV Bible in our home, I also downloaded a free ESV Bible app for my phone and did most of my reading in it or on the cards themselves. Be careful though, there is an ESV and an ESV Anglicized version. The one on my phone was slightly different than the one they used for the book!
The
Philippians in 28 Weeks Complete Print Edition
is $28.95
The
Philippians in 28 Weeks Complete Ebook Download
is $14.95
You can also purchase the cards separately but if you get the study do know they come with it.
The
Home School Adventure Co.
is currently offering a promotion right now. Until May 15th you can get 10% off any download purchase by using the code below.
Code: CREW-10
Expires: May 15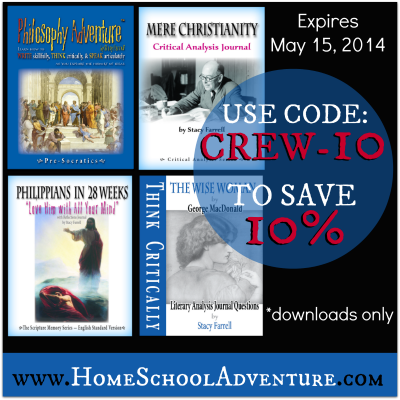 To learn more visit the
Home School Adventure Co.
website or see what other members of the Homeschool Review Crew thought about it by clicking on the banner below.